Want a fresh Ikigai meaning for yourself, your startup or business? You are at the right place. This article will identify the inaccuracies of the current framework and presents a new, fresh and efficient one for you to adapt to your life or business.
But what's your Ikigai? Is now a well-known question which helps us explore, uncover and identify a professional path which is both sustainable and satisfying.
When I first had a look at the (now-famous) Ikigai diagram with 4 intersecting circles, it made sense. The diagram identifies 4 distinct aspects of our professional and personal life to give us a sense of direction.
What we are good at

What we are paid for

What the world needs

What we love to do.
A closer look a few months ago made me think it was bloated and inefficient but was not sure why?
Today, I do.
If we think about it, the first 3 circles are talking more or less about the same thing.
How?
First, we cannot be good at something which is neither what we love, nor what the world needs nor what we get paid for. How can we be good at something when there is no internal or external motivation for it?
Second, we cannot expect to be paid for something which the world doesn't need and it is impossible to get paid without being good at something.
So, essentially, we only get paid for the value we add to others (i.e. the world) with our skills (i.e. what we are good at).
In other words, the 3 circles can easily be represented by one word.
VALUE.
It is the value we bring to the table for the world to hire us, work with us and to pay us.
This got me to think of creating IKIGAI 2.0 with just 3 circles.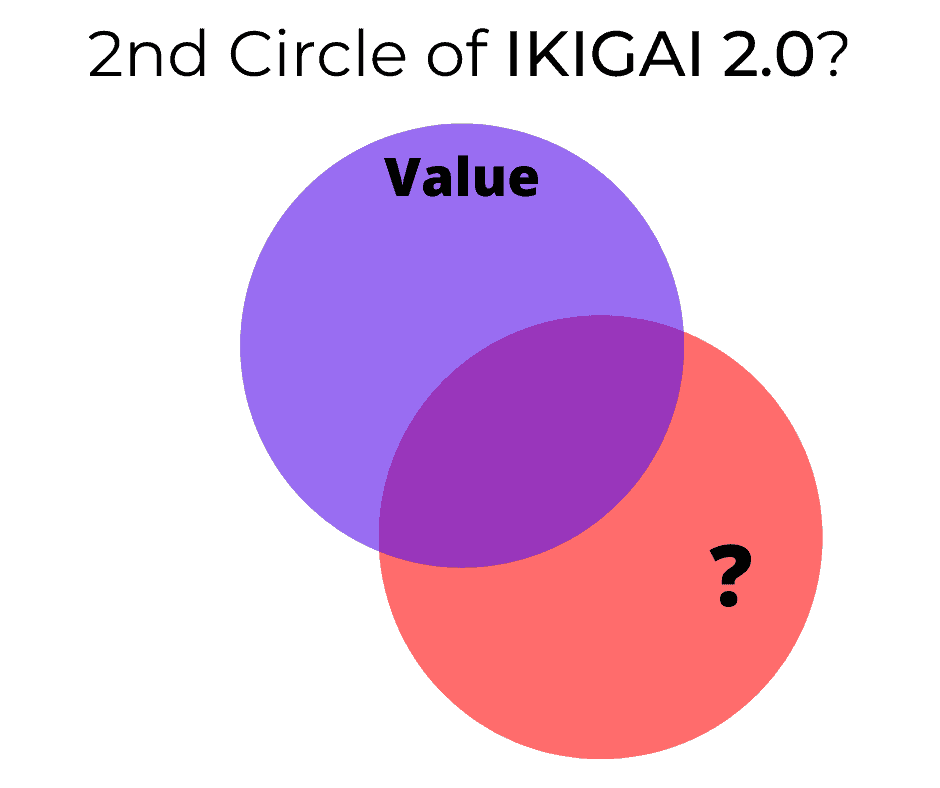 If the value we create to the world can replace the three of the four circles in the IKIGAI diagram, what are we left with?
We are left with just one factor – What we love to do.
The main reason we feel disengaged and uninspired at work is because of this lone factor.
I quit my 9-5 professional journey in 2016 partly because of this. While I had decent work and good pay, there were significant portions of work which I did not like.
20 years ago, technology was new and the scope for adding value was huge and hence it did not matter if you loved what you did or not.
Being at the right place at the right time was enough.
However, in 2020, we need to invest a hell lot of time into our chosen professions for us to be able to add consistent value over time remain relevant.
We cannot do this without a solid desire to engage in our work.
Our desire can be either for the outcome of our work (e.g. difficult problem with a big impact) or the engaging process (e.g. an artist creating a masterpiece).

Regardless of what motivates us, it is critical to have a sustained inner desire for the work we do.
I call it the DRIVE.
And, it is the second factor of our IKIGAI 2.0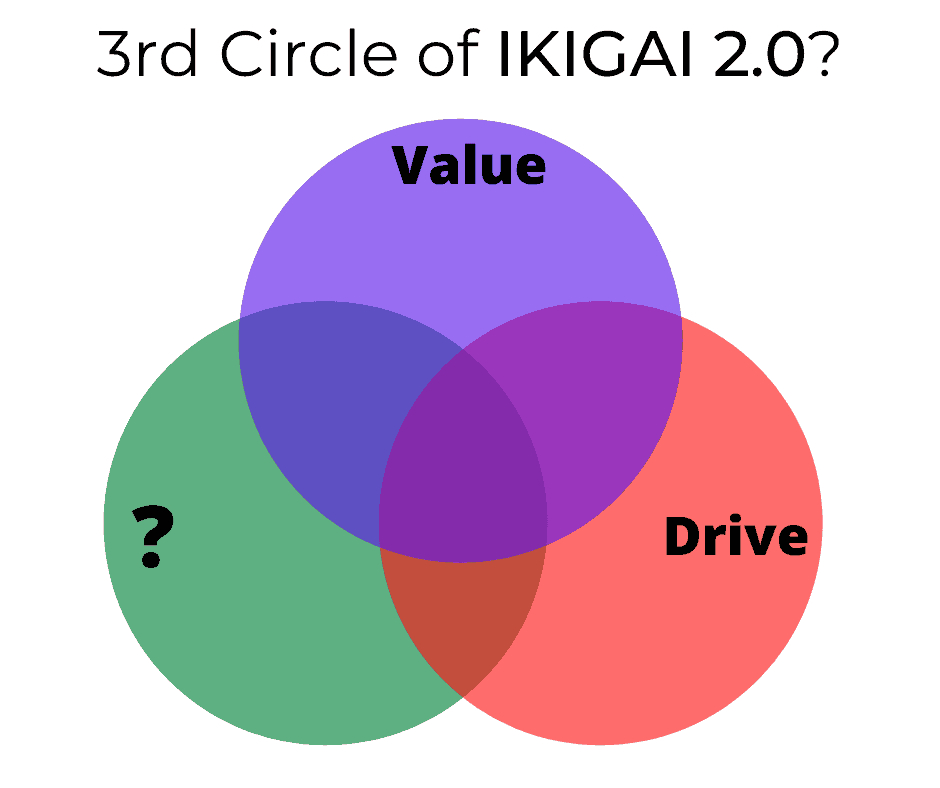 When I was a full-time professional, I used to interact mostly with 5-7 people regularly. However profound my work or was its results, my happiness was determined by how happy these 7 were at the end of the day.
This limited reach and impact led me to call it quits.
Today, it need not be the case with you. The advancement in technology and the availability of awesome knowledge to leverage it means you can scale your impact many folds without quitting your job.
And, that is the 3rd element of IKIGAI 2.0.
SCALE.
It is the ability to add value at a scale is the 3rd big factor today. If you have an entrepreneur mindset, the big aim for you will be to find and add value to the world in multiple ways by creating problem-centric community creation and leveraging technology and automation.
These three elements are today's most critical elements for IKIGAI, especially for a business or startup.
Even growth-focused individuals aim to leverage personal branding to scale their value by creating educational products like blogs, books and online courses and build a community around a problem they love to solve.
Aiming for Scale is no longer optional. With automation advancing at a breakneck pace, adding value at scale is the only way to buy time to adapt to the new normal. It will soon be Scale your value or perish.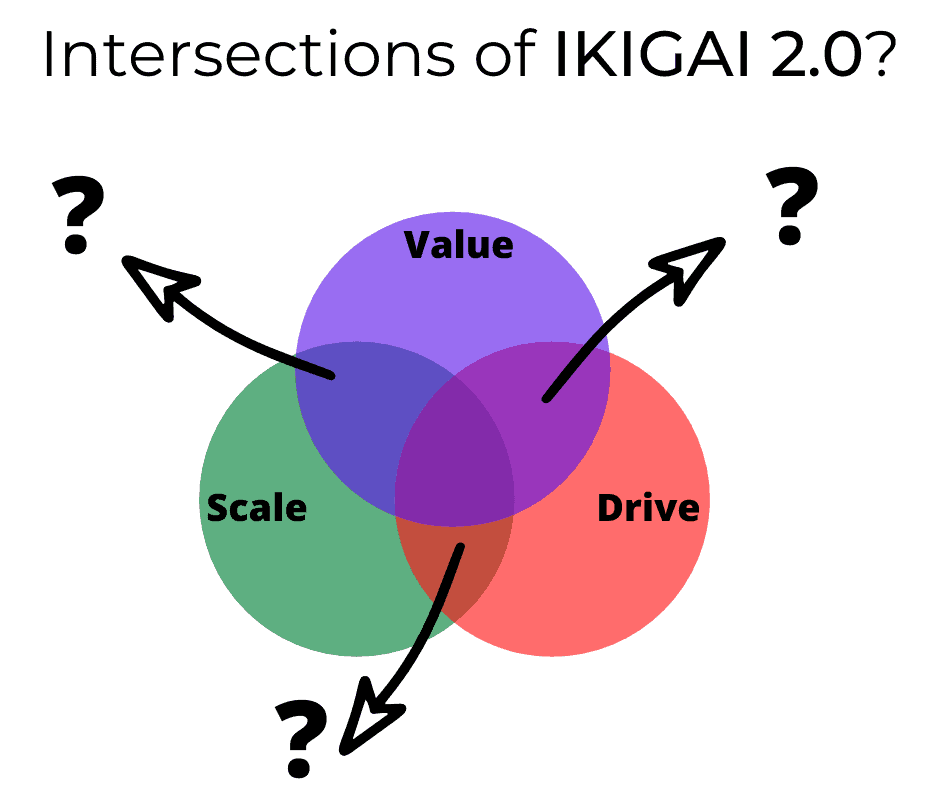 Is your IKIGAI made of just VALUE, DRIVE and SCALE – is that it?
Well, that's what I thought.
You bring your skill to the table to solve a specific problem to create Value.
You look deep within to identify the strong drive to add the chosen value.
Finally, you leverage the perfect technology to amplify and scale the value to reach more people.
When I created my IKIGAI 2.0, these three were the only ones I needed.
I strongly felt that "what the world needs" and "what you are paid for" can never be two different things, and that prompted me to take a relook.
Also, today, each one of us must leverage technology to increase our reach and impact. It is not captured in IKIGAI diagram as it stands today.
The attempt here has been to bring forth ideas that require due importance. I know it is not perfect, so it will continue to evolve.
What about intersections?
Have you chosen the value you want to add backed by a strong drive? That's your Passion.
Do you have a strong drive to scale your value to many people using technology? That's your Purpose.
Did you find a way to leverage technology to add value to a lot of people? That's your Impact.